Tom Djll
Link to home page : Tom Djll
Biography:

Tom Djll studied music at Berklee School of Music, the Colorado College, the Creative Music Studio, and Mills College's Center for Contemporary Music. Teachers include Anthony Braxton, Roscoe Mitchell, Karl Berger, Lester Bowie, Leo Smith, George Lewis, Pauline Oliveros, and Alvin Curran. He is the recipient of a 'Deeploma' from the Deep Listening Organization as well as a Masters degree in Electronic Music from Mills College, where he was also awarded the Paul Merritt Henry Prize for Composition. Tom has led improvising workshops in California and New Mexico and in 2004 completed a monthlong residency at Mills, focusing on extended techniques. In 2007 Tom was featured in the film Noisy People, a document of the San Francisco Bay Area experimental music scene. 2003 and 2008 saw stagings of Mockracy, for co-operative orchestra, actors, electronics and live video.

Tom has spent over twenty years developing the trumpet's extended techniques. His musical language incorporates complex noises and gritty, unheard textures from electronica and asymmetrical, often rude formal structures. Tom has made a lifelong study of the art of improvised music, and has been actively performing since 1980. He has performed with Gino Robair, Gianni Gebbia, John Butcher, Steve Adams, Tom Nunn, Eugene Chadbourne, Natsuki Tamura, Andrew Voigt, Biggi Vinkeloe, Frank Gratkowski, Lê Quan Ninh, Chris Brown, Ignaz Schick, Fred Frith, The Splatter Trio, Gail Brand, Wolfgang Fuchs, William Winant, Toshi Makihara, Jon Raskin, Phillip Greenlief, Pauline Oliveros, "Blue" Gene Tyranny, nmperign, Jack Wright, Miya Masaoka, Luc Houtkamp, Tatsuya Nakatani, and too many others to list.

Tom appears on recordings on Emanem, Tzadik, Creative Sources, Rastascan, Spring Garden, Limited sEdition, Artifact, and his own Soul On Rice label. Tom also writes about music for The Wire, Signal To Noise, Sequenza21, Bagatellen, Musicworks, One Final Note, and the Transbay Calendar.

"An acknowledged innovator in the use of extended split-tone techniques and multiphonics on trumpet, Djll comes across on stage as something of a trickster, a canny manipulator of sounds-you-never-expected-to-hear-on-a-trumpet, a magician who uses valves and breath rather than smoke and mirrors." - JazzCorner.com

"...the music is intensely quiet, with instrumental sounds approaching room ambience. Dropping into sustained quietness like this requires great trust between the collaborating improvisers, with the opportunity to take the lead — and the danger of ruining the music — never closer. It is one of the highest states of improvised music." - East Bay Express (writing about Grosse Abfahrt's VANITY)
---
Work-In-Progress:
New Projects On Bandcamp

SPACE JUNK - jazz trio with Phillip Greenlief and Jordan Glenn

KINDA GREEN - duo with Tim Perkis

SPECTRAL PARADE - hyper piano music

Excerpts from the 2008 instigation of MOCKRACY, with Rova Sax Quartet, Ava Mendoza, John Shiurba, Matt Ingalls, Tara Flandreau, Jen Baker, Liz Allbee, Gene Baker, Thomas Scandura, Tim Perkis, Aurora Josephson, and hundreds more

SKRMISHES - hyper piano music


Somewhat Recent Releases on CD


Grosse Abfahrt: VANITY - Emanem #5007 Grosse Abfahrt is the name I gave the project on the occasion of its first recording. In German, it means 'great departure'. The project is to take a core group of Bay Area musicians and put them together with out of town guests. Always free improvisation. This recording marks the third documentation of the project. The usual quintet of tighter-than-air Bay Area music makers (see below), plus cellist Theresa Wong, contrebassist David Chiesa, and violinist/violist Matthieu Werchowski. Recorded live at 21Grand Gallery, April 2008.




Grosse Abfahrt - everything that disappears Emanem 4146 Wide-ranging, long-structure improvisations by a nonet consisting of John Bischoff, Frederic Blondy, George Cremaschi, Tom Djll, Matt Ingalls, Le Quan Ninh, Tim Perkis, Gino Robair, and John Shiurba. The handsome jacket features photos by Dill Pixels.


Not quite so recent releases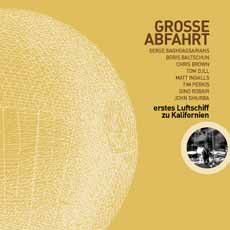 Grosse Abfahrt - Erstes Luftschiffe Zu Kalifornien - Recorded in 2004, this lighter-than-air octet is comprised of Boris Baltschun and Serge Baghdassarians from Germany, and Bay Area mofos Gino Robair, Chris Brown, John Shiurba, Tim Perkis, Matt Ingalls, and Djll. 47-something minutes of stretched-outness, available from Creative Sources (Portugal) and online at squidco, metamkine, minimamedia, fonoteca, and diapazon.
"One of the best discs you're likely to hear this year." -- Paris Transatlantic


Releases from earlier in the millenium

Bellerophone - Trumpet Solo Music. In which the history of brass playing is not lightly "deconstructed" but wholeheartedly eviscerated. (SRPD 02) Review here.

SMUDGE - Once was trumpet and some other sounds - like the sound of a contact mic being dragged over a plasticized 3-d mousepad surface - but emerges sounding more like an albatross'-ear-view of the inside of a jet turbine. Coffee, tea, or dB? (SRPD 03) Review here.

Road Signs - Documetations of bits of two tours with saxophone guru Jack Wright in 2002 and 2005. Two trios with another sax maven, Bhob Rainey; one longer trio with percussionist/noisician Tim Feeney. Recorded in Boston and Rochester, NY. Since both Rainey and Feeney are from Boston, I almost called this one "Boston Has Beens," but, thankfully, cooler heads prevailed. (SRPD 04)
"...the emotional range and sound palette are astonishingly wide-ranging, and flavoured with a keen sense of humour, too. Essential listening for anyone following the micro-micro end of the current improv scene. Nate Dorward, CADENCE another review here

"TREE PIECES" compositions by Wendy Reid. Brassiosaurus plays Tree Piece #52 for trumpet, trombones, tuba and voice.

"SIX FUCHS" improvisations by Wolfgang Fuchs, Gino Robair, Matthew Sperry, John Shiurba, Tim Perkis, and Djll - Rastascan BRD052 Read a review at All About Jazz.
---

Address: Albany, CA
Phone: 831-320-1489
Email: djll_at_sonic_dot_net

Upcoming Events:

SIMM Series

Outsound Presents @ Musicians Union Hall
116 9th St @ Mission
SF

Sunday, May 18 2014 7:30 PM

7:30pm Revenant Quartet
Karl Evangelista - electric guitar, Michael Coleman- keys/electronics, Tom Djll - trumpet/electronics, Nava Dunkleman - percussion
8:30pm The Equity and Social Justice Quartet
Plays music from the new CD out on Edgetone
Markus Hunt - double bass, Robert Lopez - drums, Darren Johnston - trumpet, Rent Romus - alto saxophone

With its genesis in a semi-apocalyptic duo performance between Evangelista and Coleman, an edited version of which provided the soundtrack to SNEAL's similarly foreboding short film "The Last Days of the San Diego Zoo", the Revenant Quartet is a unique mixture of free improvisation, intense noise, and moody electronic textures–music that is both chilling and beautiful.

The Equity and Social Justice Quartet, a new jazz group formed by Bay Area bassist and educator Markus Hunt. In April 2014 Hunt released The Whisper of Flowers on Edgetone Records. This is Hunt's first recording as a leader. The title of the album was taken from a quote from bassist William Parker: "It is not about jazz, it is about sound as revealed through the mysteries of life. About those who have said yes to the whisper of a flower and the shout of a blue hurricane."
His recent debut performance of the ESJQ was held Grace Cathedral to benefit the Homeless Children's Network of San Francisco.


---
Berkeley Arts

2133 University Avenue
Berkeley

Wednesday, May 21 2014 8:00 PM

8pm
Tom Djll solo - piano

Tom Djll, infamous for his trumpet hacking, returns to his first instrument, the piano, introducing a suite of hacked MIDI pieces for digital piano and electronics. The physical means are a circuit-bent Yamaha Keyar imposing its MIDI will on an otherwise harmless Yamaha Digital Piano. Djll will conjure up some of these bent compositions in real time, along with some other metasonic surprises.

9 pm
Eric Glick Rieman, Piano and Chamber Music

In my brain I'm a pianist, first and foremost. Although I often perform on prepared Rhodes electric piano, I spend a good amount of my time scheming about how to compose piano music and playing the piano. So I wanted to put together a performance that would feature some of this composed work. "Knitting" (2012 - 2013) is a notated work, a work loosely based on the process of knitting - echoing its repetition and complexity of patterns. It revolves around the piano, and in this chamber rendition of the piece that pianist is the indefatigable Brett Carson (http://brettcarson.weebly.com), surrounded by a chamber ensemble of willing knitters.
Portions of my piano suite "Thy Devil's Waistcoat" (2013-14) will also be performed at this show by the vibrant pianist Julie Moon, notably, "The Questioning Resolve of Those Who Need To Move Forward Proves Successful."

The Knitting Ensemble is comprised of:
Brett Carson: piano
Masha Albrecht: violin
Joshua Marshall: saxophones
Jakob Pek: electric guitar and percussion
Scott Siler: vibraphone and percussion
Peter Sloan: trombone
---
Berkeley Arts

2133 University Avenue
Berkeley

Saturday, Jun 14 2014 2:00 PM

The 2nd Annual Richard Waters New Music Festival - a festival of musical invention inspired by Richard Waters and his creation, the Waterphone. The festival will run from 2 – 10 PM and feature musicians from the greater bay area, including a large waterphone ensemble to open and close the show.

Partial line-up more TBA.

Rent Romus - solo saxophone

Music For Hard Times
Tom Nunn - inventions, Paul Winstanley - extended electric bass

Get Your Bad Self Ready!
Steve Shain - metal bass, Ted Dutcher, Bart Hopkin - inventions, Mike Knowlton - inventions

Jon Raskin - solo

Eric Glick Rieman and Bryan Day - prepared Rhodes & inventions

Reconnaissance Fly
Polly Moller, Amanda Chaudhary, Rich Lesnik, Larry the O and Tim Walters

Full Disclosure Big Band
Gary Knowlton, Keith Cudaback, Lee Charlton, Tom Solinger, Rob Wright

The Emercency String Ex-tet
Bob Marsh - contrabass, Doug Carroll - cello, David Michalak - lap steel, Jeff Hobbs- violin, Kristina Dutto - violin

The Richard Waters Orchestra
Tom Nunn, Bart Hopkin, Eric Glick Rieman, Gary Knowlton, Lee Charlton, Karen Stackpole - waterphones and Cindy Webster - saw

Grosse Abfahrt
Tom Djll - trumpets, electronics, Kyle Bruckmann - oboe, English horn, Jacob Felix Heule - percussions, electronics, Matt Ingalls - clarinets, Tim Perkis - electronics, John Shiurba - guitar

Doug Carroll - cello, birds

Ghost in the House
Tom Nunn - inventions, Polly Moller - bass flute, John Ingle - saxophones, Kyle Bruckmann - double reeds, Karen Stackpole - gongs, percussion, David Michalak - lap steel, percussion

---
CDs on which Tom Djll appears: