Luggage Store New Music Series
Outsound co-Presents @ The Luggage Store Gallery
1007 Market St.
San Francisco California 94103 USA

Click for Photos of the Luggage Store Series

The LSG New Music Series is the longest standing experimental music series in the Bay Area, with weekly Thursday night shows since 1991. Founded by LSG Gallery Directors Laurie Lazer and Darryl Smith, the series has been curated by several Bay Area musicians.

Since 2002 the New Music Series has been curated by Outsound Presents and local improvisers/sound artists Rent Romus and Matt Davignon. They present a wide cross section of sound artists from every experimental genre.

Thursdays 8-10pm
Admission $6-10 sliding scale
All ages welcome, no one refused for lack of funds.

The series is an artist-run, grass-roots DIY effort that relies on volunteers. Please join us in setting up chairs, curtain, lights, sound once a week, and contact Outsound Presents to get involved in marketing and project coordination.

The Luggage Store Gallery is a non-profit corporation funded by the City of San Francisco, grants, and your contributions. Gallery hours are Wednesday through Saturday, Noon to 5pm. For gallery information call 415-255-5971.


BOOKING
Please read the policies here. Contact Rent Romus for booking and all other inquires.

Principle

Artist-run, volunteer, grass-roots DIY effort with little money and extraordinary results

Type of Music Presented

Experimental: new sonic, improvised, noise, electronic, lowercase, avant-jazz, outrock, 21st century composition, and sonic art. See artist list below.

Format

Weekly on Thursday Nights 8-10pm
Usually two or three acts per night
7:00pm Setup
8:10pm Set One (45 min)
9:10pm Set Two (45 min)
or
7:00pm Setup
8:10pm Set One (30min)
8:40pm Set Two (30 min)
9:25pm Set Three (30 min)

Booking Lead Time

Two to four months in advance

Terms & Policy

70% of door equally split between two sets 30% of door goes to the gallery which Outsound is not directly affiliated with. We volunteer our time and efforts to running the show. One comp admission per artist.
No Power tools, or destructive devices of any type allowed. No fire or fume generating devices unless under a controlled environment and is 100% non-toxic. No smoking of any kind allowed in the space.

Facility and Equipment

Visual arts gallery with simple PA (mixer and 2 speakers, 2 mic stands, 2 mics), full window film screen, one LCD projector (no interface must supply own cable). A few tables, 45 folding chairs and 2 music stands are available. Max Capacity 100(standing room)

Location

Second story storefront on Market near Sixth
1.5 blocks from Powell Street BART station, and several San Francisco buses stop right outside.
If you are driving to our space, please email us for advice on where to unload and park.

Do Not Have

Piano, projector, microphones, instrument cables, power strips

Do Not Provide

Guaranteed payment, guest passes, hotel accommodations, transportation, rehearsal space/time, or a sound person.



To Book a Gig

Check calendar for date availability.
Submit performance description with proposed dates, brief artist bios, website information and links to audio/video to Rent Romus
Past Curators/Volunteers
Ernesto Diaz-Infante, Sean Rooney, Steev Hise, Scott Looney, Matt Ingalls, Damon Smith, Bob Boster, Melissa Metrick, Jon Brumit (send us a note if you presented over the past 20 years, we'd love to hear from you).
Past Performers
Over the course of its Thursday night concerts, the series has presented hundreds of artists drawn from a vanguard roster, among them Cecil Taylor, Miya Masaoka, Alan Silva, Carl Stone, Biggi Vinkeloe, Joe McPhee, Janet Feder, Peter Kowald, Henry Kaiser, Fred Frith, Gino Robair, Koji Asano, Andrea Neumann, Axel Dorner, Kitundu, Pamela Z, Wolfgang Fuchs, Amy Denio, Jason Kahn, Eddie Prevost, Karen Stackpole, Ernesto Diaz-Infante, Gianni Gebbia, Karen Borca, Oluyemi Thomas, Saadet Turkoz, Yasuhiro Otani, Eddie Gale, Jim Ryan, Dina Emerson, Burton Green, Jane Rigler, Jack Wright, Assif Tsahar, CJ Reaven Borosque, Glenn Spearman, Danielle DeGruttola, Bob Marsh, Shoko Hikage, Bob Ostertag, Xome, Randy Yau, Stimbox, Kaffe Matthews and countless others both local and international.
Luggage Store Web Site
Directions : 1.5 blocks from the Powell Street BART station 2 doors up from Taqueria Cancun
Link to home page : Luggage Store New Music Series
Upcoming Events:
---
Thursday, May 23 2013 8:00 PM
8pm Eclectic Emergency String (X)tet
Bob Marsh - cello/violin, Doug Carroll - cello, David Michalak - lap steel guitar, Kanoko Nishi - bass koto

9pm Jack Curtis Dubowsky Ensemble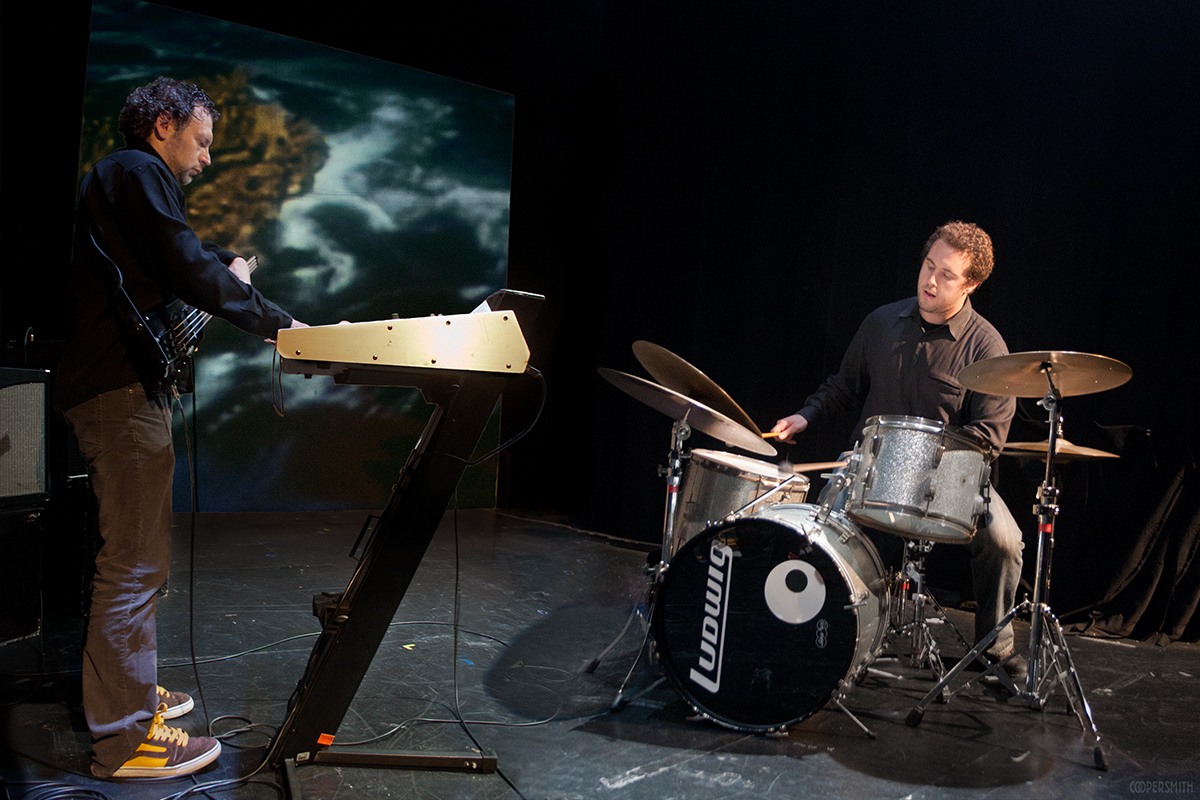 The Jack Curtis Dubowsky Ensemble is an internationally recognized new music group that combines acoustic instruments, electronic hardware, composed material, and structured improvisation. The Ensemble treats analog synthesizer as a rare and unpredictable performance instrument. The Ensemble's contemporary electro-acoustic music is performed and recorded live, with no overdubs or sequencing.
The Ensemble has presented extensive programs of live music to experimental film. In 2010, the Ensemble attracted global attention with concerts of Depeche Mode's Violator, performed entirely live, start-to-finish, with a complement of strings arranged by Jack Curtis Dubowsky, to mark the album's 20th anniversary.
The Ensemble features Jack Curtis Dubowsky on Roland Jupiter Six and bass, and Fred Morgan on drums and percussion. Dubowsky and Morgan met at the San Francisco Conservatory of Music, and have played together as the Ensemble since 2008. Trombonist Hall Goff also appears on Jack Curtis Dubowsky Ensemble II.





The ESX combines free improvisation and the use of graphic scores in their performance. The Emergency String (X)tet grew out of the ashes of Fred Longberg-Holms Phenomenal String Quartet in Chicago some fifteen years ago. After the dissolution of the Phenomenal Strings, ESX founder Bob Marsh was disconsolate, greatly missing the aural wonders provided by that group. He created the ESX when he believed the lack of improvised string music had reached emergency proportions. The ESX has had many incarnations both in Chicago and in the Bay Area. The ensemble is called an (X)tet for two reasons: First, due to the fluctuating number of players at a given performance. Second, because it emphasizes the unknown factor inherent in improvisation.




---
Thursday, May 30 2013 8:00 PM
8pm Andrew Jamieson/Robert Lopez duo
9pm Julian Valdi-Vieso Ensemble
Julian Valdi-vieso - Synthesizers and guitar , Lucy Trepla - Bass & percussion, Manuel Barenboim - Video projection

Andrew Jamieson is a keyboardist and composer interested in the connection between a variety of improvisational traditions, particularly jazz, experimental, and gospel. Robert Lopez brings the sensitivity of a contemporary percussionist to his improvisational drumming. As a duo, they pursue unstructured improvisation and rigorous rhythmic coordination with equal enthusiasm, exploring the ways that these two extremes can compliment one another, and incorporating them into original compositions and interpretations of jazz standards.

Julian Valdivieso is a Colombian composer/performer with an MFA degree from the California institute of the Arts who explores many types of music, with a very strong background in music theory and music history. He specialized in guitar and electronics but is also capable of playing many instruments; such as piano, voice, bass and percussion. He has done a broad and thorough study journey in the fields of experimental music, contemporary classical, jazz, latin-american music, pop and rock.
Lately Julian has been interested in the relationship between music and image, using graphical scores to trigger different kinds of improvised music in relationship to a determined space and time. In addition, Julian has a passion for creating and turning almost any object into a music controller. By using them in a new and unexpected way, he can effectively recontextualize them in new and distinctive musical terms.


---
Thursday, Jun 6 2013 8:00 PM
8:00pm Alex Jenkins/Randy Stark duo
8:45pm Charles Celeste Hutchins - laptop
9:15pm Joey Molinaro - solo violin/electronics


Relentlessly-touring composer, violinist, and fiddler Joey Molinaro first gained attention as a member of the seven-piece experimental chamber-grind outfit "Basilica." As an acoustic or electric solo artist, he conjures a torrent of riffs over a two-boot foot percussion flurry. His set often includes seventeen Discordance-Axis-inspired songs, overdriven poetry, and glitched-out electronics. Joey is "based"" in Brooklyn/ Pittsburgh.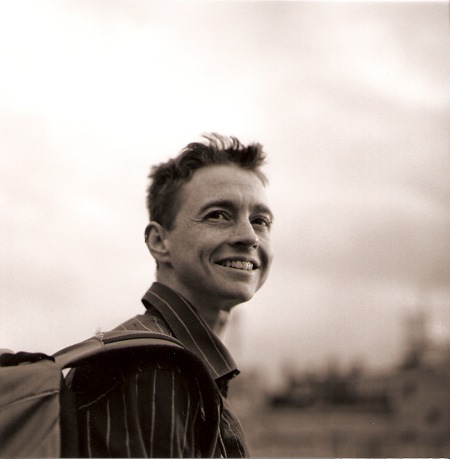 Charles Céleste Hutchins was born in San Jose, California in 1976, and lives in London, England. He is a member of the board of directors of Other Minds, an organisation that produces an annual festival in San Francisco.
Hutchins attended Mills College in Oakland, California, where he studied with Maggi Payne and acquired a love for the sound of analog electronics. In 1998 he graduated with a dual B.A. in music and computer science. In 2005, Charles graduated from the M.A. program at Wesleyan University in Middletown, CT, where he studied computer music and Supercollider with Ron Kuivila and improvisation with Anthony Braxton. Following that, he attended the year long course at CCMIX in France and then the Sonology course at the Royal Conservatory of the Netherlands. He has just completed his PhD at the University of Birmingham in England, where he studied with Scott Wilson.
He has performed in North America – in the San Francisco Bay Area, Seattle, Canada and Connecticut – and in Europe- in England, France, the Netherlands, Germany, Italy and Austria. His music has been played on European and American radio.
He is exploring using his computer to do things that his analogue synthesiser cannot do, including just intonation and granular synthesis. His most recent work has concentrated on live laptop performance, especially in an ensemble setting.


After college, Alex Jenkins spent two months in India, working on an independent ethnology project. It was during this period that he became interested in Tabla. Subsequently, Alex spent the remainder of his time there, studying North Indian Classical music and Tabla technique.
Returning to the U.S., Alex expanded his musical education by spending two years in the Percussion Studies program at California State University, studying under Dan Kennedy. He also had the privilege of studying with the great Tabla Guru, Pandit Swapan Chaudhuri, at the Ali Akbar Khan College of Music in San Rafael, Ca. Alex continues to perform and record regularly, around California and beyond, playing a variety of music (on both Drum set and Tabla) including, Jazz, Rock, Blues, Fusion, Indian Classical and just about everything in between.

---
Thursday, Jun 13 2013 8:00 PM
8pm: Crystal Pascucci presents Wild Hen
9pm: Robert Lopez & Mateo Lugo

Crystal Pascucci is a cellist, composer and improviser. Her approaches are influenced greatly by her training in chamber music. Her music utilizes delicate communication amongst performing musicians, draws clear phrase lines, and uses orchestration found in small ensemble compositions. There is no one traditional tone or sound found at the aim — there is only musical intention, regardless of timbre or technique. In this way, statements are presented through a large palette — through an unconventional lens.

The Robert Lopez and Mateo Lugo duo aims to shock, is built on impulse synergy, and creates catharsis through composition and improvisation. Hailing from Oakland, CA, their sound is born from a sonic blur of sharp cutting drums and relentless electric guitar; growing into liminal resonances and zero bullshit. The duo is constantly moving towards the ineffable, intangible, impossible. It is equally a sound of freedom and a sound attempting to be free: struggle and seamlessness collide and let go.


---
Thursday, Jun 20 2013 8:00 PM
8:00pm Headboggle: https://soundcloud.com/headboggle
8:30pm A.C. Way: http://acway.bandcamp.com/
9:00pm NIGHT WORSHIP: http://nightworship.blogspot.com/
9:30pm Kevin Gan Yuen: http://www.viraloptic.com/




"Audio/visual-surrealist KEVIN GAN YUEN, is one-half of San Francisco's celebrated blackened noise trio SUTEKH HEXEN, FERMENTĆ and CIRCLE OF EYES. His work illuminates the underside of nature-inspired dark ambient with passages manipulating foreboding, discordant overtones. Culturally, the glossolalic denotes an act synonymous with the phenomenon of purportedly speaking in tongues, which, in turn, constructs a new mode of articulating thoughts by uttering words rooted in an unknown language; in this case the delivery through the electrical guitar, being his primary instrument of communication.
Disclosing sonic, yet speech-like syllables exercised in a ritualistic context, Kevin Gan Yuen inculcates an idea of language that reintroduces the threat and allure of the magical through sonic-practice." -C. Shafii
---
Thursday, Jun 27 2013 8:00 PM
8pm: Jan Pusina - electronics, incorporates improvised music with two laptops and digital audio processors utilizing a compendium of Jan's recorded work back to the 60's, along with Gordon Kurowski on Theremin.

9pm Nick Wang - electronics


Jan's work utilizes live video feedback using looped Hearn and Templeton video colorizers, as an improvisatory device and also incorporates improvised music with two laptops and digital audio processors, utilizing a compendium of Jan's recorded work back to the 60's

Nick Wang is an American artist, musician, and electronics hobbyist. He attended Mills College where he received an MFA in making obnoxious sounds with CMOS integrated circuits and wishes that he could disable geographic capitalization.
---
Thursday, Jul 11 2013 8:00 PM
NextNow guest curation

jMaa - very compact 8min set from members of Cartoon Justice, involving
found percussion and Moroccan Raita with hydrophone, processed through a new
sonic architecture..

INSTAGON

Jordan Glenn & Robert Lopez - Percussion Duet performance.
---
Thursday, Jul 18 2013 8:00 PM
8:00 PM Dunklepeck
Nava Dunkelman and Jacob Peck
9:00 PM Heroic Trio

The all-female Heroic Trio are Diamond Dave (Wonder Woman), Rodney Dangermouse (Thief Catcher), a mercenary, and Paul Reubens (Invisible Woman). initially, they're on opposing sides - the invisible Paul Reubens is kidnapping newborn male babies for her evil master, Diamond Dave is trying to solve the crime (rather more effectively than her policeman husband, who is unaware of her secret identity), and Rodney Dangermouse, who was formerly employed by Paul Reubens's evil master, is trying to sell her services and inside knowledge to the police. but all three have something in common buried deep in their past...

DunkelpecK is Nava Dunkelman and Jacob Peck. Together, they create a truly unique, powerful, bizarre, and beautiful improvisational duo. Inspired and informed by many musics of the world, from Javanese Gamelan, to Bee Bop, form Japanese folk to rock 'n roll, from the contemporary to the primordial, DunkelpecK interweaves many worlds of sound and silence into a musical universe unlike any other.

---
Thursday, Aug 1 2013 8:00 PM
8pm: Lindsey Walker - voice & electronics
9pm: Doug Lynner - Mystery Serge

Lindsey Walker has a background in textiles, photography, styling, painting, classical piano, clarinet, mandolin, folk singing, digital and analog sound synthesis as well as stompbox live looping.
Regardless of her engagement in the arts, she considers herself a machine operator of sorts using transparent layers of breath and voice as input to build sonic textures. Her B.A. in Psychology from University of California, Davis informs her exploration of perception and communication where the human senses and technology meet.
Lindsey was the first artist from the United States to contribute audio to Nat Grant's international blogging project "Momentum," in 2012.
In 2008 at the Y2K International Live Looping Festival in Santa Cruz California she was nominated for "Newbie of the Year."



Doug Lynner performs, composes and records using vintage and contemporary analog modular synthesizers, digital and virtual synthesizers and traditional instruments. Of special note is Doug's Mystery Serge, an amazingly versatile analog modular synthesizer designed by West Coast synthesizer pioneer, Serge Tcherepnin.
Created in 1975, the Mystery Serge has been painstakingly conserved and upgraded and stands more than well in comparison to contemporary analog modular synthesizers. Its unique design gave rise to "patch
programmability," the ability to reconfigure a single module for many different uses by patching it differently.
Doug Lynner's music is based upon the notion of "sound for sound's sake" He explores the intrinsic value of sound through mixtures of ambient, avant garde, rhythmic and soundscape genres.
In addition to his avant garde, experimental composition and music journalism, Doug is a pioneer in live rock performance with synthesizers and a founding member of the synth pop recording acts LEM, Mobius and Invisible Zoo.
---
Thursday, Aug 15 2013 8:00 PM
8pm Hare & Arrow
Sung Kim - Vox, nuns Horn, Archtop loopers
Timothy Orr - drums

9pm dead western
---
Thursday, Aug 22 2013 8:00 PM
8:00pm TBA
9:00pm Elements Saxophone ntet
Josh Allen, Aaron Bennett, Rent Romus, David Slusser, Aram Shelton
---
Thursday, Aug 29 2013 8:00 PM
8:00pm Glitch Lich
Cole Ingraham, Chad McKinney, Curtis McKinney, Ben O'Brien
9:00pm Whiskey Book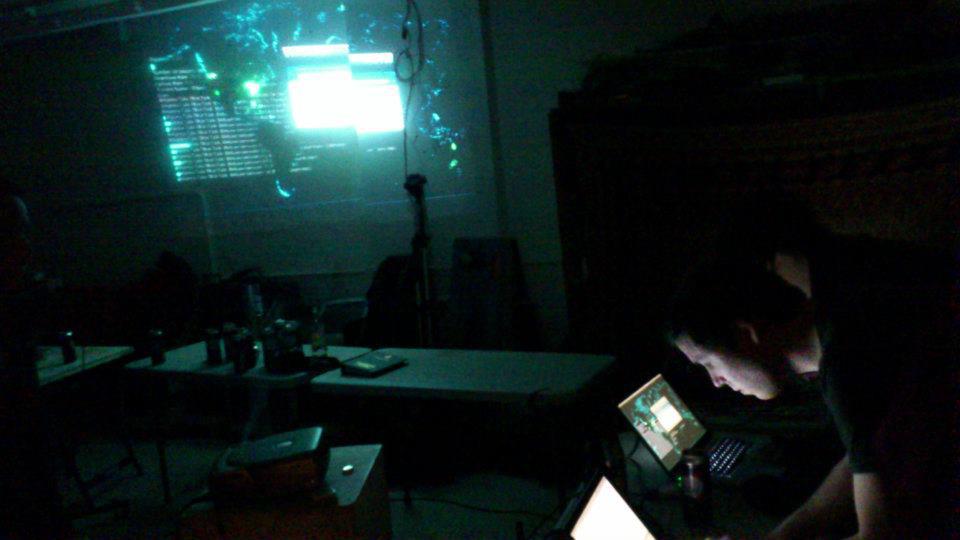 Glitch Lich is a seething florescent filament slashing its way through the ether, across oceans and continents, connecting four disparate entities into an assimilated mass of noises and beats. Off the grid, the quartet consists of Cole Ingraham, Chad McKinney, Curtis McKinney, and Ben O'Brien, whose physical forms met at the experimental way station Mills College in Oakland, CA. Since then the band has spread its reach across three timezones and two continents. When encountering this sonic entity, prepare for recursive reprogramming, beer, and DEMONOLOGY.




---
Thursday, Oct 3 2013 8:00 PM
It was a dark and stormy Night of Noise

8:15pm tentatively booked
8:45pm Woody
9:10pm Conscious Summary
9:30pm tentatively booked


"... Consious Summary, a one man project out of LA. This music teeters on the fringe of lovliness and horror. Like the most beautiful, pleasant nightmare you've ever had. This is harsh noise melded with playful, acoustic, far away sounds. Lo-fi vocal sounds bend and echo in a dream of melodies and oscillations. Don't get too comfortable because these lovely, freak folk type sounds will warp in and out of all that is gritty and abrasive. Riddled with playful, storybook synth sounds interruped by possesed, demeted noises. Whimsical in the sickest sort of way. This indecisive record will leave you not knowing wether you should giggle and smile or recoil in fear. Beautiful and terrible all at once." -Surfer Rosa, KFJC 89.7FM

---
Thursday, Oct 17 2013 8:00 PM
Y2KX+3 live Looping Festival
---
Thursday, Nov 7 2013 8:00 PM
8pm: TBD
9pm: Terrence McManus (tentative - Matt)